This 2008 Toyota Camry was brought to me by a neighbor after one of his "buddies" did some collision repair work on a couple panels. The person who painted it did an absolutely terrible job of prep before he painted, and to make matters worse, the paint job was done outdoors with no protection from the elements whatsoever.
And the worst part? It's jet black.
Since the vehicle is going to be turned in (off-lease) at the end of the month, the owner didn't want (or need, really) to pay to have the entire vehicle polished out, but the panels which were refinished really needed some work. The goal wasn't to make them perfect, but rather to make them a closer match to the factory orange peel on the rest of the vehicle. So, on to pics.
Here's what I had to start with:
First up was masking the panel edges and door handle area to protect them from potential damage:
Next up I took some paint thickness readings to see what I was working with. Here's a reading from the door on the opposite side of the vehicle (factory paint):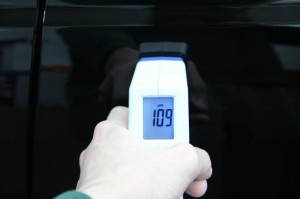 And here's a couple from the door I'll be sanding:
Given that the readings across the panel are all over the map, and considering that I have no way of knowing exactly what was done to the panel (how many coats of clear vs. primer or base) I knew I would have to be a bit careful and watch what I was doing. I chose the Meguiar's Unigrit DA system for the task.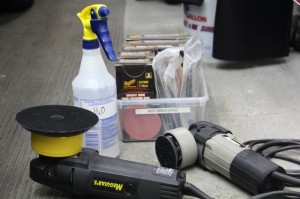 Step one was eating through the trash and nibs with some 800 grit: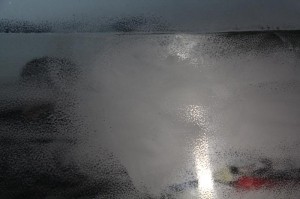 Followed by going over the whole panel with a 1500 grit finishing disc: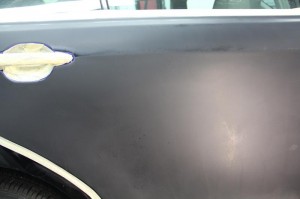 And finally refining the scratches down with a 3000 grit disc: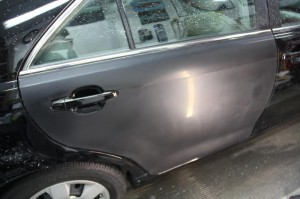 Up to this point, here's a couple readings of how much paint has been removed:
I compounded the finish back up to gloss with the rotary using a yellow Meguiar's SO1O wool pad and M105, followed by D300 on a MF cutting disc with the DA to remove any buffer trails (this paint was ROCK HARD!). Finally I employed Menzerna 106FA to finish up the door and rear quarter panel, which was only in need of polishing. Here's the result: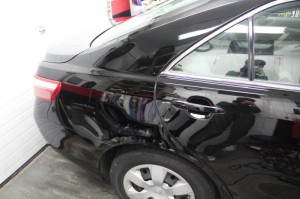 Here's one of the final measurements for the paint: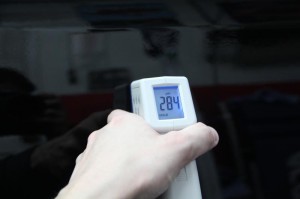 And last but not least, a flash shot to keep me honest: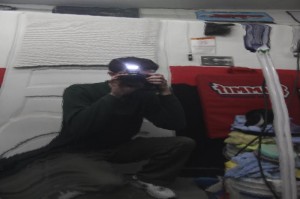 Unfortunately there are a few tracers that mapped through the finish which I couldn't remove, but it's still a significant improvement and hopefully enough to keep the owner from paying a damage premium.
Thanks for looking!
Followed by going over the whole panel with a 1500 grit finishing disc: